Film Line Production Manages the Expenses of Film Making
samhills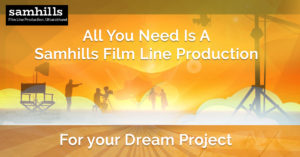 Making a film does not only requires actor, villain, etc. it also requires director, film line producer, and other staff for the successful shooting of the film. The film line producer is the first person hired in the film by the producers. The line producer is the main member of the production of the film as he handles the arrangements of the movie making. Technically, the film line producer manages the movie budget, also they manage the daily aspects of film production—means they handle the similar role as film line production managers.
In film line production, the producers do not act on the movies but take park as the creative team for the efficient crewmember. They choose the locations into the film so that audience thinks going there for a while.
What Is A Film Line Production Service?
The film line production is the core part of any movie making—it is specialization, the arrangement of films on location in India or another country. Samhills India the film line production in Uttarakhand is the leading  film producer in India with sufficient production team, high-class production facility, movie studio, and crewmember. They utilize the latest technology for a motion picture that is available at reasonable price.
The Bollywood film line production companies hire the line producers for ad agencies, documentary movies, and corporate filmmaking. It is their duty to show the cultural diversity and tradition of the places in a different angle, which you have never seen in the world. Means, it is their duty to choose the location for movie shooting either dehradun, haridwar, phenomenal monuments in New Delhi, exotic and other historical places in India, and natural beauty of places.
Work of Film Line Production
They facilitate the permit during the festivals folk and tribal dance, puppet shows etc. also manages the accommodation of film unit in hilly regions, with cultural colors and the real kings and queens picture who will appear in the movie or in commercials.
Hire the film line producers from Uttarakhand India with the authentic rural setting in the preferred locations. Many films makers have their own line production—so they do not need to hire from other production agency.
They sometimes hire the other crewmember of the team, negotiate a deal with local vendors, and handle the production unit. They rarely involve in the filmmaking but perform the crucial role in filmmaking.